Marita "Mary" Holm (born 15 April 1993) is a Norwegian YouTuber and on half of ChiqueGeeks. She is 23 years old and also owns her own YouTube channel titled WeAreAllGeeksHere.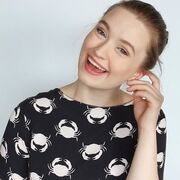 Background
Edit
Mary was born in Oslo and currently resides in Mons where she is studying at university. Mary usually edits all of the channels reaction videos. She claims to be obsessed with Agatha Christie, Doctor Who, Sherlock Holmes and Marvel. This is naturally why she watches and reacts to both Doctor Who and Sherlock.
Mary used to be a fan of Game of Thrones, however she lost interest before the sixth season and therefore didn't appear in any reaction videos bar the finale.
Mary also owns an inactive channel called "Mary Holm" - she has not uploaded a video to it since September 2015. It has just over 1000 subscribers.
Community content is available under
CC-BY-SA
unless otherwise noted.